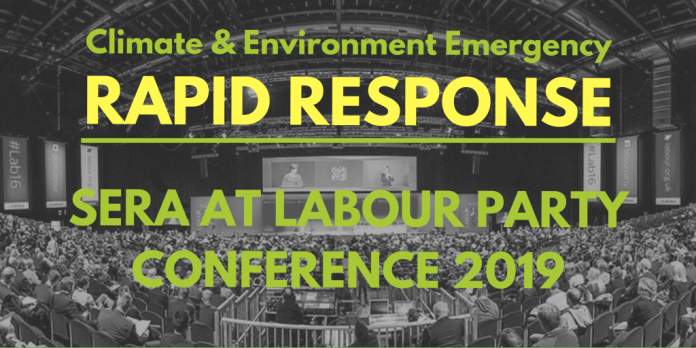 Join SERA online for one of their largest programmes at Labour Party Conference ever.
'Climate & Environment Emergency: RAPID RESPONSE' was a programme of fringe events that took place in Brighton between the 22nd and 24th September, hosting some of the most important environmental champions in the Labour Party, in Westminster and across the country.
The live stream of this event has now ended, but all of the presentations are available to watch on demand here.
Our full programme schedule:

Sunday 22 September
11:00 – 12:00: Taking On Brexit & The Climate Emergency
12:45 – 14:00: Labour's Menu For Change: The Role Of Food In Tackling The Climate Emergency
17:00 – 18:15: Fracking & The Climate Emergency
19:00 – 20:30: The Green Industrial Revolution Reception

Monday 23 September
12:45 – 14:00: Uplands, National Parks & Climate Change: Supporting Nature For The Many
15:00 – 16:15: Green Revolution: How Will The Treasury Tackle The Environment & Climate Emergency?
16:30 – 17:30: Labour Cities Cleaning Up Our Air
18:00 – 19:15: The SERA Rally – Climate Emergency: RAPID RESPONSE
19:45 – 21:15: Climate SOS: Net Zero Reception

Tuesday 24 September
12:45 – 14:00: A Home Shouldn't Cost The Earth: How Labour Can Address The Housing & Climate Crises
17:45 – 19:00: Plastic Crisis: Time To Tidy Up Our Act
Find out more about SERA here.