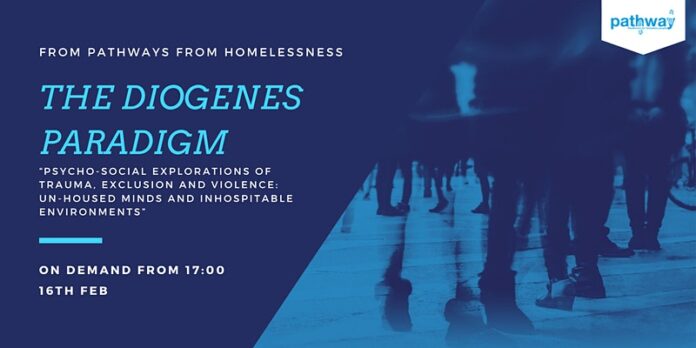 As part of the build up to Pathways from Homelessness 2022 we have a special programme recorded earlier today now available to view on demand.
John Adlam and Christopher Scanlon, the authors of a new book out this month, explore the impacts on individuals of homelessness – the deep scars that remain and contribute to many of the failures to reintegrate and house people who have experienced homelessness.
Bringing new perspectives on how to recognise and tackle psycho-social issues that so often surround the challenges of dealing with homelessness. John and Christopher are joined in this programme by Olivia Butterworth from NHS England in the Chair with comment from Dr Nigel Hewitt, Medical Director, Pathway.
Biographies
Christopher Scanlon
Christopher Scanlon is a psycho-social consultant/researcher and consultant psychotherapist in forensic and adult mental health. He is a training group analyst at the Institute of Group Analysis and the Irish Group Analytic Society and founder member of the Association for Psychosocial Studies. t: @CHRISTOPHERSCA8
John Adlam
John Adlam is a group psychotherapist and independent researcher, working mainly in the National Health Service. He is a founder member of the Association for Psychosocial Studies and a former Vice President of the International Association for Forensic Psychotherapy. t: @Diogenesquely
Olivia Butterworth
Olivia Butterworth is the national lead for the People and Communities workstream of the Primary Care Networks programme and was named in the HSJ's Top 50 Innovators and the Top 50 Integrators in 2014. In 2018 she was named as one of the Top 70 NHS Stars.
She has a background in Community Development and education with a passion for empowering people to be their own change.
Pathways from Homelessness 2022 takes place on the 16 & 17 March 2022, bringing together the latest international and national evidence and best practice in health, housing and public services for excluded people. If you haven't yet registered sign up here.